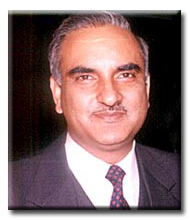 Mr. Deepak Kapoor regarded the Grand Master of the Prashna Kundali. He is a world-renowned astrologer with over 30 years of experience in the field of Astrology. His clientele spans over countries from all the continents of the world and belongs to various religions. His clients always amazed by the accuracy of his predictions and swear by them.
Whenever you are in a dilemma of what to do or when to do, whenever a decision is to be taken which has multiple options, for all the ifs and buts of life, which confront us day in and day out, ask the jyotish guru. He will guide you through this maze of uncertainties called life.
Mr. Deepak Kapoor has the rare quality of reaching out to his clients, and being able to guide them in the most critical of circumstances and situations. His endearing ways of resolving the most intricate situations with ease and helping you with his apt counseling in times of need, makes him the most sought after astrologer of our times. He is the most respected and loved teacher at the Institute of Astrology at Bharatiya Vidya Bhawan in New Delhi, where he has been teaching astrology for the last over 10 years now. His clarity of thought and simple ways of putting the intricacies of astrology across to his students make him so popular.
This very clarity of thought is reflected in the books he has written. His first book on "Astronomy and mathematical astrology" is now a standard textbook in institutes and universities offering courses in Astrology. It has already run into several editions in the last ten years. His second book on Prashna is a landmark work and is acknowledged as the best on the subject. "Prashna Shastra - the scientific applications of horary astrology Volume 1 and 2" has given him worldwide acclaim in the fields.
His technique of predictive astrology involves, interalia, mixing the analysis of the birth chart, the varsh chart (annual horoscope) and the prashna chart (horary horoscope). As a result of this combined analysis, he is well known for his remarkably accurate forecasts, which helps the people in taking appropriate decisions in times of crisis. He is considered to be an authority on the subject of astrology.
Books by Mr. Deepak Kapoor:
Astronomy and Mathematical Astrology

is the first book that was written by Mr. Deepak Kapoor. It is available both in Hindi and English. This is that standard starting text for people learning astrology as all the basic concepts and charting techniques are explained lucidly, with illustrations to complement each concept.
Prashna Shastra
Scientific Applications of Horary Astrology

is divided into 2 volumes, and details the concept of horary astrology from the scratch. This set is also available in a choice of Hindi or English. It is widely regarded as the best work on the subject and it is the standard text for learners, and the preferred reference for professional astrologers.
To order these books online, please place the order and complete the payment
here
Client Testimonials
Dear Shri Deepak Kapoor,
Sir, my heartfelt thanks for your help and guidance. You will be happy to know that my interview took place on 25-4-08 and the results were declared yesterday. By God's grace and your valuable guidance, I have cleared it. The accuracy of your predictions is astounding. May God bless you! Whenever I used to feel disheartened or dejected, your words guided me and gave me courage and hope. I did the Graha Shanti measures advised by you with total faith and religious fervour. You have also written that these remedies are to be changed or moderated depending on the ongoing dasha. I will be contacting you separately for this, since the six-month period is almost over. Thank you from the bottom of my heart once again!
S.S., Lucknow, India.
Reply from Mr. Deepak Kapoor
Dear S.S.
Thanks for your kind words. Your success is because of your own efforts. I am sure you will continue to have the same focus, which will help you further in your career.
Regards
Deepak Kapoor
Click here for more>>